Downton Abbey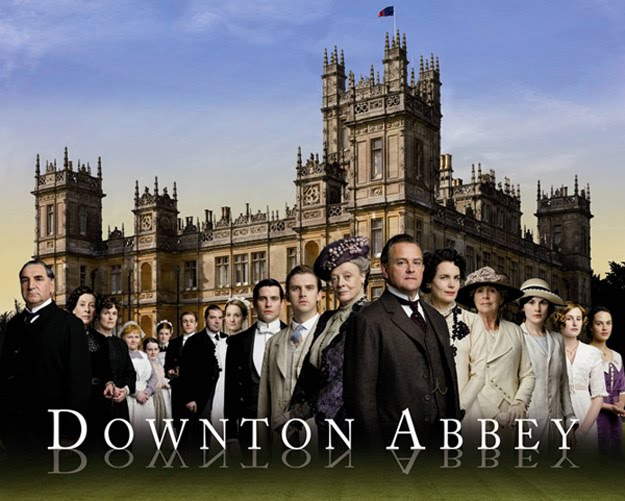 PBS Masterpiece Classics
Downton Abbey, the show, well aren't we just a bit addicted to the characters, clothing, sets and the drama of the many relationships as they unfold over the episodes? I must admit I am not yet through Season Two, and I missed the opening segment of Season Three, but it is safe on the DVR for viewing..... soon!!!!
Now, how about
Downton Abbey, the Mystery KAL
? Have you heard of this Knit A Long organized by the folks at Jimmy Beans Wool? This link to the
Ravelry project page
gives you a thumbnail view into the largest KAL I have seen. There are over 1500 people who have created project pages and nearly another thousand sitting in Favorites Limbo on Ravelers' pages. If you check on the Ravelry patterns tab, this is in the number one spot and has been in the top ten for the past week or so. So here is the lowdown. You want to be in the know, right?
Lorna's Laces Custom Dyed Downton Abbey colorway,

image imported from http://jimmybeanswool.blogspot.com/
Go read up on the information posted on the Jimmy Beans Wool blog page
here
. It is too late to get a skein of the custom dyed
Lorna's Laces Downton Abbey colorway
; over 3000 skeins were pre-sold. Not to worry, you can stash dive for 270 yards of sportweight in your stash can't you? You'll also need size 3 DPNs (double pointed needles for you Muggles lurking about there), a crochet hook for provisional cast on and the ability to do knit, purl, increases and decreases, slip stitch and passing slipped stitches over. And knitting in the round, on DPNs or on circular needles.
SPOILER ALERT SPOILER ALERT SPOILER ALERT
Don't read this part unless you want to know what the mystery pattern is, though I feel it is safe to tell you, since the pattern was released yesterday.... Lady Violet's Dinner Gauntlets. Oh come on, you know you want to knit a long, just do it!
Pinterest image imported from Jimmy Beans Wool blog.
On Sunday the first set of directions were released and we have a week to get as much knit before the next set of directions are released. If you decide to jump in, know that there are many others sharing tips, tricks and answering questions over on the
Ravelry Downton Abbey KAL forums boards.
I am debating between solid and variegated yarns. The Lorna's Laces is a gradient with long stretches of color before it shifts to the next hue. I have a thing about "pooling" or the designs made by the color shifting, I am usually displeased by the funny stripes I end up with I may use some Malabrigo Silky Merino in a
pearl
color, still trying to decide.
For those of you curious to know which character you are, go take the
quiz
and see who you're aligned with. I am Lady Violet, according to the quiz. Go figure?