Knit and Crochet Blog Week, Day 2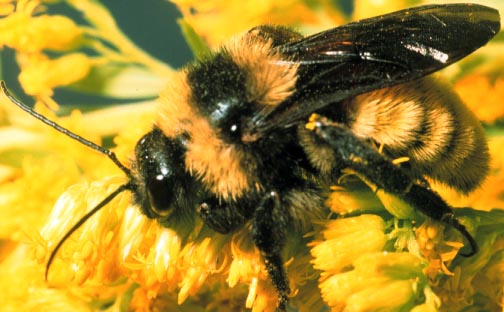 Imported from http://beneficialbugs.org/bugs/Bumblebee/bumble_bee.htm
Mascot Project: The House Of Bee
Bees are busy in their daily forays in and out of the flowers of the field and garden. They drink nectar, carry pollen, and pollinate the flowers. I am like the bee, in that I try my best to knit daily and when I miss a day, I feel out of synch. I do have at least 4 or 5 projects on the needles at one time, so I will flit back and forth, working on an easy knit when I am visiting with someone or doing the more complicated patterns when I am alone. As far as cross pollinating goes, I do my best to evangelize newbies into the craft. I try to spread my enthusiasm and interest to anyone who hovers near me.
As I reread that paragraph, I got stuck on what to tell you next and then it dawned on me.....
A tip of the nectar stored in my stash...
Like the bees in the field, I gather fiber instead of nectar, especially recently. I rarely shop with a pattern in mind. I usually step into a yarn shop and become attracted to colors like pumpkin and butternut, eggplant or crimson. I don't buy sweater quantity often so I have numerous skeins of delightful color and texture. My stash has grown so much in the past six weeks and I totally blame my LYS! Totally. My stash is over flowing because the shop has gone out of business. My stash is like the hive that needs to be harvested, the racks of honeycomb dripping with honey, that is what my storage looks like.
As for a Bee House project, I got a number of images but none that exemplify my as a Bee type knitter. Here is something that I feel sweet over, something I am anxious to cast on a begin knitting, even though the weather won't call for this type of accessory for some time.
Stargazing Cowl
in
Highland Handmades Black Ash Worsted
. Don't you love the tonal colors? (BTW, if you want to buy some of her gorgeous hand-dyed yarns or batts, it is important to note that she usually does shop updates on Saturday, the good stuff goes fast, so be there hovering over what you want to put in your shopping cart).
This cowl is pretty on both sides, but the reverse makes me think of the pattern seen inside the beehive wooden slats. The pattern and yarn are both created by
Heather Kinne/Boutrosbabe
of the podcast
TheFiberistaFiles
. I listen faithfully each week, and enjoy the slice of her life that she shares, from her knitting, spinning and dyeing, to her fitness regime and the 5K she is training for. It isn't just about yarn, I feel like it is a sit down and Skype with a friend.