Making Monday, Mamma4earth
I want to share some interesting info and patterns with you. I happened upon a designer I think you might want to know about. Her name is Linda Dawkins and her Ravelry name is
mamma4earth
. She has many patterns that I want to share with you but first, let me show you the item that got me to sleuthing around to learn more.
Above is Linda's
Seaglass Cowl
. You know me and cowls, right? I am always looking for the next best pattern. (I should do a post that collects all the ones I have tried in one place to make it easier to tempt you to join me in my obsession).
So I was on Ravelry, of course, and looking for something new to make. I went to the advanced search and typed in cowls and choose the "sort" method. (The default is "best match"). I fell head over heels with the color and halo of the yarn in the photo. Don't you just love the look of it? And then as I looked closer, the stitch pattern drew me in, it looked corrugated and like a nice, soft stack of smooshy color to tuck into the neck of a coat. I added it to my
Ravelry shopping basket
, and then continued on, looking through her
library of patterns
in the Ravelry store.
But, let me first talk about the cowl I made..... I get so excited I get ahead of myself, sorry.... Here is my FO from last week.
Seaglass Cowl
, mamma4earth/Linda Dawkins
Yarn: Forest Greener worsted weight on size 8 needles.
I enjoyed this knit, the pattern is beautifully illustrated, and Linda has created hyper-links to take you to tutorials for the various stitches you'll need to do. As a knitter with experience, it wasn't that challenging to know what to do, but it will be so valuable to a newer knitter to use the links to acquire additional skills. The photographs give you a close up on details and styling suggestions. All in all, the pattern was worth the price of admission. Though, if I was asked my advice... I would suggest soething with alpaca so you get the cozy slouchy look. The Forest Greener is a bit on the scratchy side even after sitting in Eucalan wash for a long time. I will make this again, with a fiber that has more drape....
And.... I have more to say about patterns that are not free..... look for that post later this week...... Suffice it to say, we knitters need to support the talents of the indie designers by considering spending a few dollars to help them to continue to add to the multitude of "patterns that must be knit"!!!!
Mamma4earth
Now, here is a little bit of what I discovered about Linda. She is the designer of toys, as well as accessories, and if you are a fan of projects like those of
Susan B. Anderson
, you NEED to take a look at some of the adorable toys you can knit.
Linda is a mom to four children and lives in
Gauteng, South Africa
. She homeschools her kids and looks for ways to live a creative and self-sufficient life. She sells patterns, along with
pure wool, hand painted yarn, and hand spun yarn made with luxury fibers
. Linda writes a blog,
Natural Suburbia
and it is filled with photos, stories and links to her etsy shop and patterns on Ravelry. She also hosts a meme called
Creative Friday
where you are invited to share what you are working on. There is so much to take in, I suggest you bookmark the site and follow her for update notifications. She also has Mamma4earth Animal Knitting Patterns From South Africa
Ravelry group
that you can join to have others to chat with and lurk on their project photos.
Go check out Linda's etsy shop named
Mamma4earth
. The shop carries patterns and toys. If you aren't inclined to knit something like a
Rainbow Horse
, you can just buy one. (Linda knits to order, so leave some time for her to knit it up. She can also do custom colors if you wish).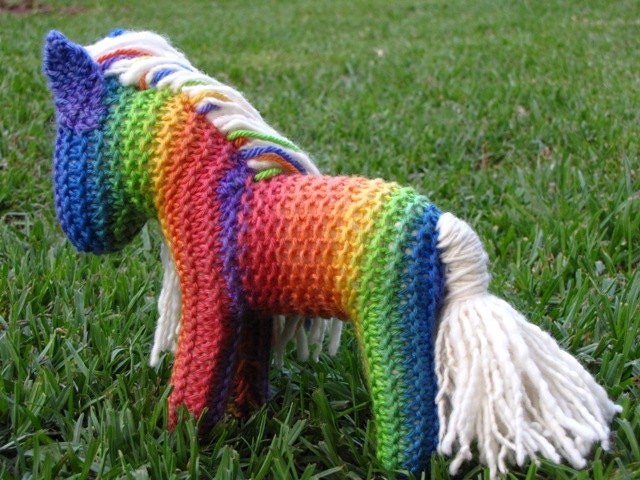 Vibrant Rainbow Horse, stuffed with merino wool. $42.00 plus shipping.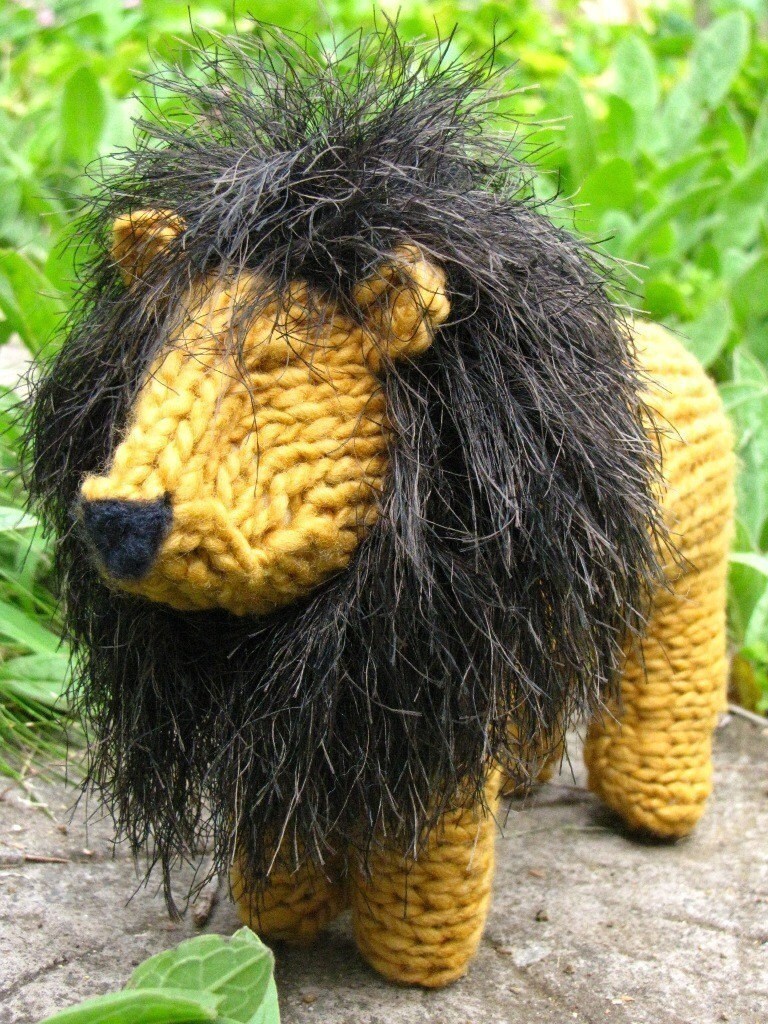 Knitted Lion Toy, 40.00
Linda explains her design process in an
interview
on the website
Rhythm of the Home
. She studies photos as she looks for ways to "capture the true character of the animal". As she does her research of the animal and it's movement, she sketches her ideas, and then casts on and begins to knit. She writes the pattern line by line as she knits each row. She says her inspirations often occur at night and she sets out in the morning hours to bring the idea to fruition. She is adept at capturing an attitude in the posture of the animal and she imbues each with lively details. (The
article
lists her free patterns and they are filled with photo tutorials and tips). Here are images of just a few of her patterns. Check out this
free tutorial
that helps you with sewing up and stuffing her toys.
There are more cowl patterns too, but I was smitten by these animal toys. I wish I had them to give my girls to play with when they were small. There is nothing like the creativity these bring out in young children and the fact that they are handmade of natural fibers just adds to their allure.
So have I lured you in? Are you curious to read more? Maybe I have inspired you to select an animal or cowl and cast on? Let me know which is your favorite, and please pass this info onto your other fiber friends.
(All images were used with the permission of Linda Dawkins).