Saco River Dyehouse and Yarns, Biddeford, Maine
I took a road trip last Saturday with Sarah, a member of the Charlestown knitters, a group of us that meets each Monday at our library. We had both seen Clara Parkes' Upcoming Events in
Knitter's Review
but neither of us wanted to go solo. I wavered between doing something new and staying home. It was with reluctance that I agreed to go; I so enjoy my solitary weekend routine of knitting away on projects and enjoying the quiet of my house while my girls are off doing their own thing. But I knew I needed to get out and socialize, so I packed my knitting and we headed North.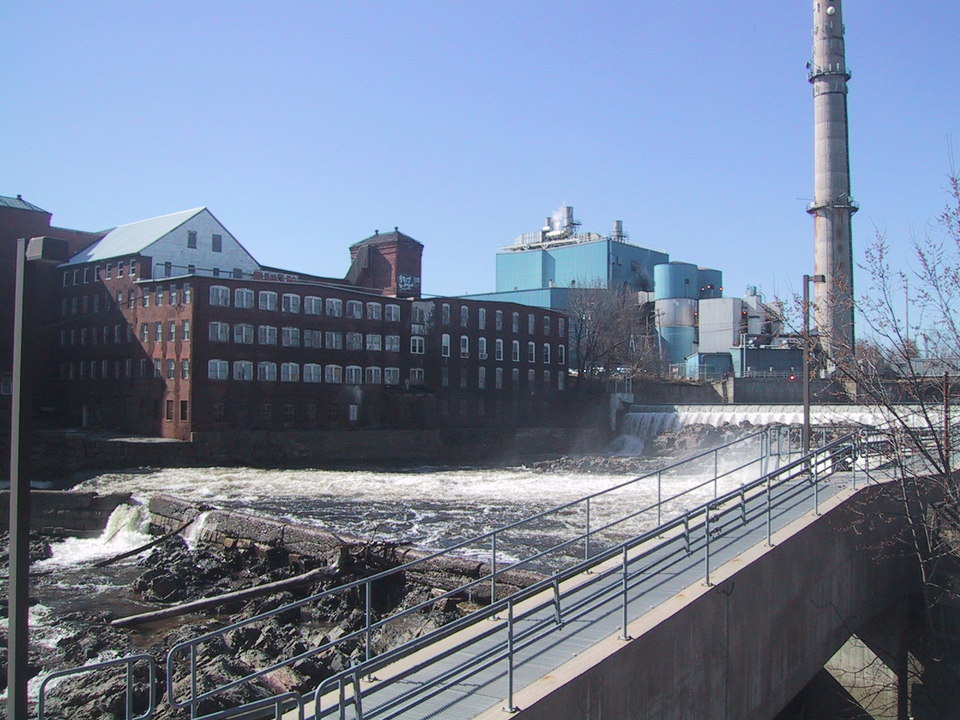 The Saco River,

image from http://www.city-data.com/picfilesc/picc15243.php
We arrived in Biddeford in a little over an hour and thirty minutes (from Boston). It is an easy drive and one I expect we will be making again very soon. North on Route 1 to 95 and then take exit 32, the mill is within three miles of the exit. The building is posted with a sign for Saco River Yarn.
Saco River Yarns is easy to find and there's plenty of parking.
Saco River Yarn
100 Main Street Building 13-W, Biddeford, Maine 04005 207-602-6327
Enter the large front room filled with natural light and marvel at the floor to ceiling shelves stuffed with the various lines of
Quince and Company Yarn
and
Swan's Island Yarns
. I also spotted a display of wool wash, rosewood needles, alpaca sox and roving. The shop is so inviting with open space and sink-into-comfort sofas and easy chairs. Like their Facebook page
here
. Follow the Rolling on the River blog
here
.
Hannah Fettig
and
Clara Parkes
were there for the grand opening event. There were a number of knitted samples on display from Hannah's
Knitbot line
and a display of her books,
Coastal Knits
,
Knitbot Essentials
and
Mabel's Closet
. Hannah had been in the shop earlier, meeting with shoppers and signing books, but we just missed her. Maybe next time? Clara was also there signing books, but I'll save for a bit later...
Clara Parkes, of The Knitter's Review,
was there, greeting us and signing her books and later, packing up orders from the Great White Bale. I want to save that for another post. Check back here for more if you don't know of the story behind this huge pile of fiber that has been traveling the country as it is made ready for skeining and knitting.
Touching one sack of the scoured fiber from the Great White Bale.
We found ourselves in a group of about twenty or so visitors to the Saco River Yarn shop. Imagine my surprise and delight to recognize a friend from my old neighborhood, Debbie and her mum, Mary.... we hadn't seen each other in about twenty years! How serendipitous! We visited for a bit and caught up on the growth and success of our kids and then we wandered the shop and browsed as we waited for the next tour of the dye house to begin. I wished I had grabbed a photo of us all together before we parted when the tour ended.
Quince yarns, if they don't have what you need, the warehouse is just down the hall and around the corner....
Quince and Co Yarns
I have this thing for Quince and Co Yarn. I won't brag and say it fills the majority of my stash, but I wish that were true. I am a firm believer in their ethic of using yarns sourced here in the States as much as is possible. I love that they are based in Portland, and have started small and give great customer service. Please go to their site and just look through their patterns, their yarns and the colors, oh the colors.
Knitting with this yarn is dreamy; no other words will state it as succinctly. When Claudia, one of the Dyehouse owners asked why did Sarah and I drive so far and what would make us come back, the answers were.... We came for the new yarn shop opening, for a chance to meet Clara and Hannah, and most of all, to see and feel and shop for the Quince Yarns in person. I know many of my Ravelry friends are just getting bitten by the Quince and Co. bug.
Amy Beth, of the
Fat Squirrel Speaks podcast
, has been gushing lately over the projects she is working on with this fiber. Another person who I feel is introducing Quince to many knitters is Paula Emons-Fuessle, of the
Knitting Pipeline podcast
. Paula is the designer of a number of popular patterns knit up in Quince Yarns.
Piper's Journey
and
Ellison Bay
are just two shawl patterns that I have knit, I loved making them.
I am lucky to live near
Knit Wit
, a yarn shop in Portland, and not so very far from
Purl Diva
in Brunswick. Both of these shops carry Quince, you can choose the yarn and color without using the internet and a colorcard... so much more fun, right? But now the Saco River Yarn is open, it is closer and tiptoes away from the warehouse. If you need more skeins for your project, you are next door to the "vault" of more Quince yarn.
I had been quietly chanting the mantra "Do not buy anymore yarn today" on the ride up, but I knew I would need to get at least one skein as a memento.... Quince, of course, maybe some more Puffin? To make another
Norby Hat
? I could be in control, I could do just one, maybe two skeins, right? Ummmm, no....
Osprey, so luscious in shades of green.
As the closing day of Windsor Button (our local yarn) nears, the prices have been plummeting and Sarah and I have been hoarding yarn. Neither of us has any more space in the stash to add another skein, but being at Saco River Yarns, add we did.
The wall of seconds, perhaps off in color or not evenly dyed... for a mere $3.00 a pound! Wow!
There was a multitude of shopping bags lining the floor of the seconds room, we peeked in, curious as to what they held. The bags were filled with leftover fibers from the previous dye business, and could be had for a mere $3.00 a pound... wh-what? Wait... how much yarn would that be? Hmmmm, as I turned and looked at the wall of floor to ceiling shelves I saw more yarn, unlabeled and seconds, but these too were only $3.00 a pound. There was yarn from Quince and Swan's Island! Wh-what! I became a bit rabid with my greedy hands, grabbing for the skeins that looked like similar dye lots. OOOOOOH! Rapture....
My pile of seconds weighed in at 5.8 pounds, $18.00.
I got this lovely pile of seconds yarn and plan to use the skeins for gifts, hats, scarves, cowls, mitts. I headed back to the Quince wall thinking.... sweater quantity..... Face palm... when will I ever knit down all that I have bought in the past few months.... the image of the miller's daughter from the
Rumplestiltskin
tale hovered in front of me.... back away slowly now girl, think about getting the pattern picked out first..... So I will need to go back another time to Saco River Yarns and get more Quince yarn, but I did get a new circular set of Rosewood needles!
Sarah stacked hers, 8 pounds worth of seconds.
Here is the pile of yarn that Sarah got, stacked like Jenga blocks for the weigh-in. But I am getting too personal... you want to know about the Saco River Yarn shop and Dyehouse, correct? Forgive me, the effect of the yarn fumes continue to linger....even days later.
Saco River Dyehouse
Saco River Dyehouse is a business that was recently relocated from Pepperell, MA. I want to give you a chance to catch your breath... this was a long post (too long??) and so I ask you to come back tomorrow for the story and tons of pictures of the dyehouse and the amazing story of rescuing machinery and skills from the past century and bringing them to Maine to create jobs and continue the tradition of fiber processing next to the Saco River.
Leave me a comment if you have questions or, more importantly... if I went on and on and on, far too long.