Saori Weaving, Mihoko Wakabayashi
The
Common Cod Fiber Guild
enjoyed hearing from
Mihoko Wakabayashi
last night. Mihoko has created a
Saori
weaving studio in Worcester where she teaches adults young and old the joys of weaving. Mihoko spoke about the history and practice of Saori weaving, she shared many beautiful pieces of weaving, and she also brought unique items of clothing she has created. She brought a traveling loom that was lightweight and easy to set up for her evening's demonstration.
The Saori weaving began in Japan. After the wedding of her son forty years ago, Misao Jo found she had ample leisure time and felt the need to do something creative with her hands. Her husband and son helped her to build a loom, and she played and plied with color and texture. She wove an obi, (the sash tied around a kimono), and showed it to a man who owned a weaving factory. He noticed a flaw and told her it was worthless. This did not sit well with Misao Jo and she continued to create things with intentional "flaws". Her friends and family admired her creations and urged her to show her work to the owner of a local kimono shop. The owner ordered more obis, but Misao Jo found weaving for commission stole her joy of creating. Misao Jo began to gather friends in her home and she taught them to weave.
Mihoko demonstrates Saori weaving.
The philosophy of Saori is founded on the simplicity and beauty found in nature. Saori weavers believe all are gifted artists and we should explore the mistakes we make and embrace them. Here are the
four slogans
Mihoko spoke about:
Consider the differences between a machine and a human being. We are urged to be spontaneous and create our own rules. "Mistakes" should be embraced and explored.
Be bold and adventurous. Don't feel limited, but rather explore your creative spirit and see where it takes you.
Look out through eyes that shine. Saori believes we have an intuitive ability to find and appreciate beauty, it strengthens our senses and helps us to see beauty in many things.
Inspire one another and everyone in a group. Mihoko urged us to work in groups, to learn from one another and to inspire and be inspired. Saori levels the field of skill where young, old and differently abled can teach and learn together.
The family of Misao Jo continues her work in this building which design was inspired by the red farm buildings in America, as they create looms and accessories, and supply them to the many Saori groups worldwide. There are many groups of people who work and teach in the Saori method. One thing I found particularly interesting is the fact that Mihoko works with children and adults with disabilities as they learn to weave. It inspires me to think of ways we could bring this to our students in the high school where I teach.
A community of weavers.
Classes- Mihoko offers classes in her studio. Look
here
for the details.
Looms In May, Mihoko does a bulk order of looms from Japan. Look
here
for the various looms, supplies, and price sheets. I know w number of people I met were looking at her brochure with interest. Just be aware, you may have to wait til next year. Call Mihoko if you are interested in ordering.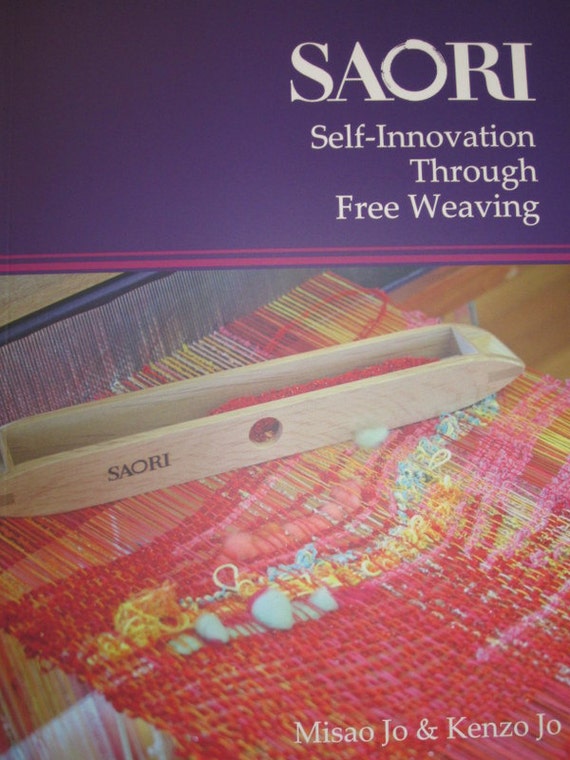 Book The book
Saori Self Innovation
is available in Mihoko's Etsy shop. Go
here
to order. There are also some ready made warps for purchase.
35th Annual Cambridge River Festival
June 7, 2014, 12-6 PM
Mihoko will have two booths, one for the sale of her work and one where people can try weaving at her looms. Share this news with friends and visit her. Also, she is looking for volunteers to help that day, contact her if you are interested.
Leave a comment if you enjoy weaving, tell us how you learned, what your method is and what materials you favor.