Works in Progress
My knitting space, and collected objects that make me smile.
This has been such a relaxing and chill summer. I did not teach at the extended year summer session for the first time in four years, instead chosing to take a break from work after a hectic spring in my classroom. I have been enjoying this summer off from work and have been knitting so many, too many, things. There are a a ton of things on the needles, in part because of the
East Coast Knitters Neutral KAL
and also due to any stash diving that brings an old yarn purchase back to the surface.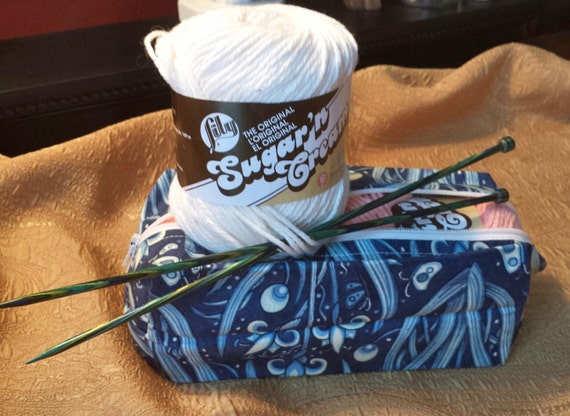 Prize in the Neutral KAL. Beacon Hill Box bag, (yarn and needles are shown for scale).
If you haven't heard, the
East Coast Knitters Ravelry group
is hosting a Neutral KAL. Go have a look at some of the photos of projects completed and please consider joining us. To participate, post a photo of your yarn and pattern and complete it before the end of September. It is fun to check in on the forum thread to see what others have posted. The KAL will close at the end of September and there will be a random drawing of names. The prizes will include a project bag from
my Etsy shop
and a Ravelry download pattern of your choice with a value up to $7.00. There is still plenty of time to join in, any project knit in a neutral color qualifies! Searching for and selecting a pattern for a neutral yarn causes me to look harder for something with an interesting texture or stitch pattern that will pop because it doesn't compete with color.
The three projects together.
Would you like a peek over my shoulder to see just three of the projects I am currently working on? Here goes!
Brickless
Brickless
by Martina Behm
Yarn-
Filatura di Crosa Tempo
on size 4 needles
This yarn was purchased at
Stitch House
quite some time ago. I made a scarf that failed miserably and so it sat waiting to be frogged. The yarn has slow shifts of color in fairly large blocks, so Brickless highlights that feature. If you have yarn where the color is stunning and has runs of color, consider buying this pattern, you won't regret it. As for difficulty, you will be knitting, purling, and casting off 6-12 stitches at the end of a row, and the lace/net stitch calls for knit two together and yarn overs. You can do it!
Easy Garter Stitch Scarf
Detail of the edging. Humble but lovely garter stitch, how I love thee.
Easy Garter Stitch Scarf
by Rosemary Falk
Yarn-
Lion Brand Fisherman's Wool
in natural on size 7 needles
The pattern is so simple and old school that it will become one I make often. In its own homely way, there is beauty to be found in the simplicity of garter stitch and slanted bias. This too is an easy to knit pattern that a beginner could master. But, be forewarned, scarves are best when they are long, beware the boredom factor! I do love the mindlessness of this pattern and I can work it while enjoying the raucous conversation of the family rollicking around me. I plan to make this a long scarf, hopefully the skein will provide for ample yardage, or I might have to get another. (So much for stash busting).
Nymphalidia, before blocking.
Nymphalidia
by Melinda Vermeer
Yarn-
Madelinetosh Sock
in the Bearded Iris colorway and
Louet Gems Fingering weight
in Navy on size 5.
This is a free pattern from
Knitty
,
and when I first perused the issue containing the pattern, it didn't jump out to me. What caught my eye and had me aching to cast on was a sample I saw when visiting at the
Iron Horse Yarn
shop in Natick. Nymphalidia calls for a colorful sock yarn and a complimentary or contrasting solid. It just pops when you find the right color combo. The pattern is easily memorized and not too difficult for a knitter with a little experience under her belt. The pattern of welted rows accented by a flair of colorful sock yarn is stunning as it flows from your needles.
The blog has been quiet as I have been spending time in Maine at my parents' house, helping out, cooking and keeping company. I am relishing in this new routine and hope to make the most of each day as the summer winds down. My return to school and work, and consequently, less time for all things fiber is approaching oh so quickly. Must. Savor. Each. Day.