FO Friday Larissa Brown and Ultra-Eyelet Shawl
My daughter went to Europe and look what she brought back!
Earlier this summer, my youngest went on a group tour of Italy, France, and Spain. She travelled with friends from high school and saw the sights, ate the food, and sipped the wine. While in Rome, she visited a yarn shop and bought me this yarn. I love the shades of blue and it ties into the color of a leather bag she bought for me.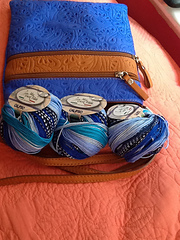 I love this cross body bag, the color is so beautiful!
As I pondered what to make with it, I reflected on her frequent comments while abroad and then back home. "They really don't like Americans there".... "I finally started saying I was from Canada"..... how funny is that?? Helen arrived back in Boston just after the Fourth of July. She admitted that missing the Fourth while in Europe made her homesick. My girl who isn't particularly patriotic inspired my Ultra Eyelet. Using some leftover Classic Elite Ultra Pima and the yarn from Rome, I cast on. It was an easy knit, one that did not take too much concentration.
Pattern:
Ultra-Eyelet
by Larissa Brown, a "pay for" pattern.
Yarn: Classic Elite Ultra Pima,
Calipso, Miss Tricot Filati
on size 6 needles
This was an intuitive knit, the stitch patterns were easy to follow and it was carefree knitting. The progress went fairly quickly, and I enjoyed knitting with cotton during the heat of the summer days. I did block it aggressively and the dimensions are 38"x40". The pattern is designed for fingering weight yarn, imagine a Magic Cake paired with a solid color? It would be a great stash buster project.
There is a story behind this pattern
Ultra-Eyelet
, do you care to hear of it? The pattern was in the Ravelry Top Twenty, and the shape of the design appealed to me, you know I am a sucker for shawl patterns. During July, the pattern design proceeds were donated to a fund raising event for an adoption of a child by her sister. That detail had me hitting the "Purchase Pattern" button in a wink.
The designer,
Larissa Brown
, is also an author. She has written books on knitting, including
My Grandmother's Knitting
and
Knit Along- Celebrating the Tradition of Knitting Together
. She also written has two fiction books,
A Beautiful Wreck
and
Tress
. I ordered the two knitting books and plan to get the novels at my library. As I perused her pattern page, I fell for these two hat patterns, do you love the look of them and the loose fit too?
I have so many FOs to put up on a Friday but alas, I am in Boston and my knits are in Maine.... perhaps I can feature them next week? Sending you warm wishes in this new season of fall! Happy knitting!